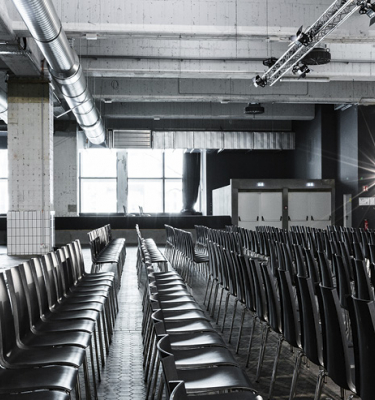 ORDER PLACEMENT/CANCELLATION
Is it possible to see the RENT4EVENT portfolio prior to leasing it?
+
We are happy to invite you to our showrooms in Berlin and Düsseldorf. A visit will give you an overview of our vast assortment and you will be able to choose the items you desire. Moreover, our web store presents product images as well as details about and impressions of every product.
One rental unit (1 RU) is effective for a leasing term of up to three days or from Friday through Monday. All rental prices are (net) unit prices and include cleaning. Upon request, we will provide you with a supplementary gross price list.
Recommendation: Order on the basis of event segments. As a result, the products for your order will be pulled in compliance with your preferences and you will save time as you distribute the goods at the event location.
How long is the leasing term?
+
Unless otherwise stated or agreed upon, the term of the lease for the rental price stipulated is three business days including the day of receipt and return. If goods are returned late, a surcharge of 50% of the net rental price will be billed for every additional day.
Do you require minimum order volumes?
+
The minimum order volumes are based on the PUs (packaging units) of the individual items. For instance, if one package contains 24 glasses, you will have to order a minimum of 24 glasses.
How can I cancel an order?
+
To cancel, all you need to do is send us an email. In any event, you will have to give us your cancellation notice in writing. However, please make sure you observe the special termination time frame during which a cancellation should be completed. All of the important details can be found in our GTC.
By when do I have to cancel?
+
Up to 48 hours prior to the delivery date, only a portion of the costs is due as a cancellation fee. Once that time limit has been exceeded, the total contract amount may be charged. All of the important details can be found
here
What costs will I incur if I cancel?
+
The cancellation fee is based on a sliding scale for the following advance notice periods:
Up to 90 days prior to the start of the rental period 20 % of the agreed upon rental rate
Up to 60 days prior to the start of the rental period 40 % of the agreed upon rental rate
Up to 30 days prior to the start of the rental period 50 % of the agreed upon rental rate
Up to 48 hours prior to the start of the rental period 80 % of the agreed upon rental rate.
DELIVERY/PICK-UP
Can I pick up my order?
+
Principally, you can always pick up your order during our warehouse opening hours. To make respective arrangements, please contact the sales team at the chosen facility.

How do you deliver the equipment?
+
Our goods are hygienically packaged and/or covered. Thanks to our innovative dishwashing technology, our tabletop deliveries are ready for "plating."
How bulky is the packaging of the goods?
+
Our transportation container size is aligned with those of our rolling carts and EURO palettes. This warrants optimum handling and is easy on the environment. If the venue poses special challenges, such as stairwells, tight doorways, etc., please let our sales team know to ensure that all transactions run smoothly.
Up to which point do you deliver the goods?
+
By default, we deliver on the ground level to the back of the first doorway. Of course we will be pleased to deliver the equipment all the way to the event locale. We will also handle the set-up and break-down upon request. For prices, please ask for a quotation.
My doorways are extremely narrow. Will it still be possible to deliver the goods?
+
Please make any arrangements for potential space limitations well ahead of time. Together, we will find a solution to equip your event in compliance with your wishes.
When will you deliver the equipment?
+
Deliveries and pick-ups will be handled within a delivery time window of at least four hours, which we will coordinate in advance. It is possible to shorten the delivery window in exchange for payment of a surcharge.
The event period is outside of your business hours. Can I order nonetheless?
+
Around the clock delivery and pick-up arrangements can be made after previous discussions in advance in exchange for payment of surcharges.
CONDITION OF THE ITEMS
A glass broke. What will I have to do?
+
Should any glass, porcelain or cutlery get damaged during the event, please indicate this when returning the items.
On our part, a broken quantity amount of a maximum of 3% of the TableTop is already included (except of KPM-porcelain series and our silver cutlery). In case of damage more than 3 % of the rented items or damage caused intentionally, there may be additional costs for the tenant. The tenant is responsible for the insurance of the equipment during the event.
An incorrect quantity was communicated to me. What will I have to do?
+
Please make sure that you have returned all of the items you have rented. If you cannot find an item, please notify us. RENT4EVENT will simultaneously check for any missing items by conducting a detailed returns counting process.
An item was damaged or dirty upon delivery. What kind of claims can I file?
+
If you should receive any soiled or damaged goods from us, please contact us right away.
Are the goods injured for the duration of my event? Who will pay for any damages?
+
In these cases we make distinctions for the amount and the causes of the damages. For instance, we will not charge for breakage and losses that total up to 3 % of the tabletop value. If the total amount of damaged items exceeds our stipulations or if the damages/missing quantities are the result of acts of intent, we may charge the party who rented the goods. The obtaining of insurance coverage for the goods for the duration of the event is the responsibility of the party who rented the goods.
RETURN/PICK-UP
When can I expect the equipment to be picked up?
+
Deliveries and pick-ups occur within a previously agreed time window of at least four hours. This window can always be shortened in exchange for payment of a surcharge.
Do I have to clean the goods?
+
All rented items are returned to us unwashed and uncleaned. Please remove only large food residue. We will handle the cleaning and dishwashing work. The costs for these services are included in the rental rate.
Can I return the goods?
+
It is always an option for you to return the goods to all our locations. However, please make sure you verify our warehouse business hours via phone or make an appointment and drive directly to our warehouse goods issue. The conditional return is checked first and we pick up any fractures or shortages on a shortage list you get hand over after the event.
How are the rented goods returned?
+
If you are returning the goods to our branch, you can dock your vehicle directly at our incoming goods reception or outbound goods outlet. Rented goods are conditionally accepted for return. We cannot determine exact broken and/or missing items until we have conducted a concise count.
BILLING
What are my payment options?
+
Principally, you have different option to pay. You can find our payment modalities for your order on your order confirmation. Usually you'll pay cash upon delivery or by payment in advance.
As a part of our parner-program we offer a variety of payment terms.
Can I get discounts on orders?
+
To our partner of our special partner-program we have different discount options.
To events with societal added value may be able to negotiate discounts or partial sponsoring in some cases. Please discuss this with the sales team of the respective facility.
When will I have to pay?
+
Please observe the payment terms stipulated in the purchase order confirmation. The total amount is due when the goods are handed over. Exceptions are subject to special written arrangements.